About
Giuliana Lazzerini was born in Seravezza near Pietrasanta in Tuscany. Between 1962 and 1968 she was a student at the Istituto D'Arte Stagio Stagi in Pietrasanta, gaining a Master of Arts Diploma. This was followed by a further four years studying painting at the Accademia di Belle Arti di Carrara.
Giuliana moved to the U.K. in 1973 and to Yorkshire, England in 1987 where she now lives.

The Tuscan landscape and childhood memories still bear a strong influence upon the artist's current work. In an earlier statement she describes her first encounters with art in Italy as a child in her father's mosaic studio. She refers to the "translucency of the mosaic fragment" and her "fascination with the vibrancy of colour" from the juxtapositioning of the pieces.
These early perceptions, several years on, provide a language and a vocabulary for her pictures in terms of colour, surface, scale of which she uses in the construction of her tapestry-like, interlocking, angular-surfaced village landscapes.
...Architecture exists within a shallow space; Structures are locked together through a medieval, narrative sort of pictorial logic. The viewer's eye is then led through and across these interweaving spaces with the most seductive and delightful channels of colour.
In other works Lazzerini depicts solitary portrait images. Figures often appear with props - shells, cups and boats. There are equestrian references. Are these characters the inhabitants of Lazzerini's interlocking Tuscan villages, or part of some ceremonial ritual? These pictures show an economy in terms of compositional design, with richness of surface mark and colour, reconfirming the artist's earlier delight in light and transparency.
"My work is varied and often developed from an idea encountered during a journey that takes me in an unknown territory where I grow as an Artist. I usually work in small series of paintings, where memory and imagination come to interplay. Time made me more familiar with the English Northern landscape and it finally has left a mark in some of my work, as I become more intrigued by its drama and atmosphere."
Selected Group Shows:
Singer & Friedlander/Sunday Times Exhibition - London & U.K. Tour

The Discerning Eye Exhibition - Mall Galleries, London

Royal Institute of Painters in Watercolours - Mall Galleries, London

Royal Institute of Oil Painters - Mall Galleries, London

Royal Scottish Academy - Edinburgh

Royal Glasgow Institute of the Fine Arts Exhibition - Glasgow

Women in Art - Gallery 14, Florence

Ad Occhi Aperti - Chiostro Di S.Agostino, Pietrasanta

St. Marco Gallery - Rome

Selected Solo Shows:
Gallery 41 – Watchet - Somerset

blue tree gallery - York
Durham University, Trevelyan College - Durham

Pyramid Gallery – York
York Hospital - York

Gallery Forty-Nine – Old Town - Bridlington

Minster Fine Art – York / Adze Gallery – York

Galleria Lazzerini - Mount Pleasant, Michigan, U.S.A

Juno Gallery – Dunoon, Argyll - Scotland

Bottle Kiln Gallery/ Opus Gallery - West Hallam / Ashbourne, Derbyshire

C.C.A. Galleries - Fulham, London + Farnham, Surrey

South Yorkshire Art Gallery - Doncaster

South Square Gallery - Bradford

Fairbairn House - Leeds University

J.K. Kelly Gallery - Glasgow

Traquardo Gallery - Forte Dei Marmi, Tuscany

Al Ponte Gallery - Ponte Tresa, Switzerland

Awards:
Herring National Award - Royal Institute of Painters in Watercolours, London

Gold Medal Award - Gallery 14 - Florence

International Shield - IL Quadrato - Milan

Silver Medal Award - St. Marco Gallery - Rome

Published Work:
Art Cards and Open Prints by The Art Group

Limited Edition Prints by Aquarelle Pictures

Art Calendar 2007 by Korsch Verlag – Germany

Limited Edition Prints by Hibell Art Japan – exclusive for Japan - 2011

Masala Cards in the U.S.A. with the Grasshopper Art Cards – 2012 to 2015

Museums & Galleries Cards U.K. Occasions & Xmas Art Cards -2012 to 2023
Mistletoe House Cards & Prints U.K. Art Cards and Art Prints - 2018 to 2023

Uniek USA - Art Prints - 2018 to 2023
Artfully Walls USA - Art Prints - 2018 to 2023
Wendover Art USA - Art Prints - 2019 to 2022
Royal Greenwich Museums London - Linocut Design Commission - 2023

Public Collection:
North Yorkshire County Council - Harrogate - 1998
Giuliana Lazzerini has 2 Oil Paintings in the Collection and on the Website with a Link as follows:
(What is Art UK? Art UK is the online home for every public art collection in the UK. We are a charity, and our website represents a collaboration between over 3,400 British institutions. Through our work, we make art available for everyone – for enjoyment, learning and research).
Durham University - Trevelyan College – Durham – 2011

NHS Trust – York Hospital – 2011 + 2013 + 2014 + 2015

Public Commission:
Northumbria County Council (Wansbeck District Council) – 2004/2005

York University – RCSS Building – Heslington, York – 2014 + 2015
Royal Greenwich Museums London - Linocut Design Commission - 2023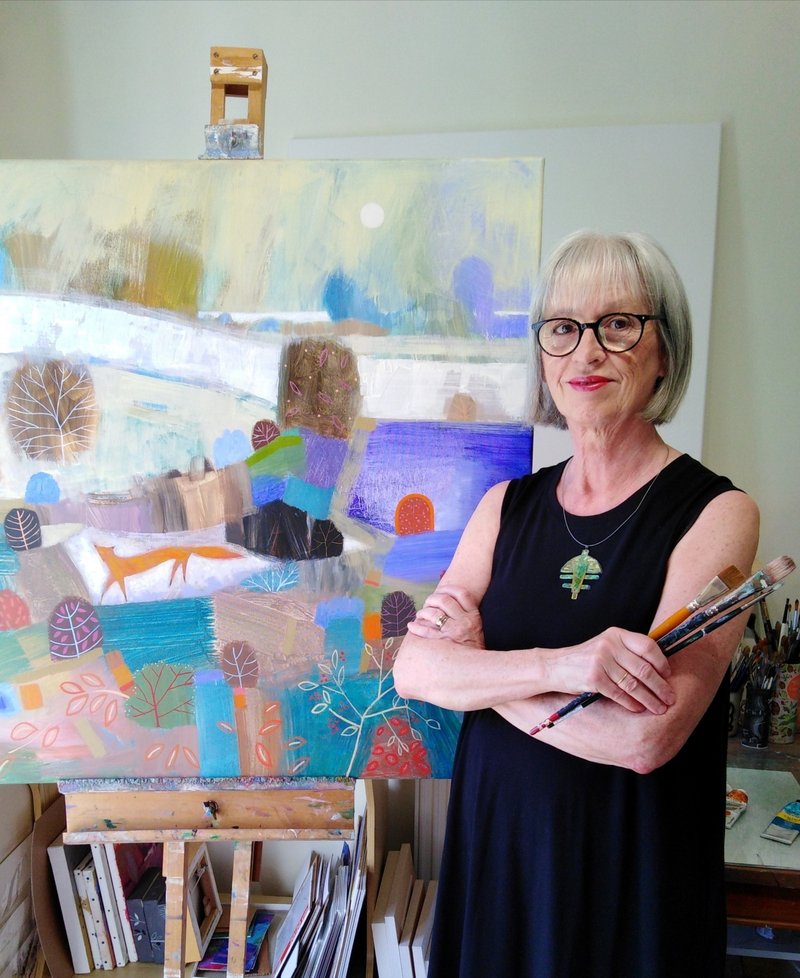 Antonella Serafini (curator)
From, "The Self-portrait" Ad Occhi Aperti No.3,
Selected artists theme exhibition catalogue, 28.02.98,
Chiostro Di S.Agostino, Pietrasanta, Tuscany, Italy
Peter Wooland B.A. (Hons), M.F.A.
Senior Lecturer in painting at the University of Sunderland.
From "The Italian Connection" selected theme exhibition catalogue,
Official Year of The Visual Arts U.K., 1996, Vicarage Cottage Gallery, North Shields, Tyneside.
The landscape of the mind is Giuliana Lazzerini's self-portrait. Living in Great Britain she remembers the Mediterranean; a vision between the imaginary and the literary with the pretext to pay tribute to her masters; Klee, Moses Levy, Giotto and Tuscan painting, her own personal artistic memory.
Charles Stone Artist, Curator, Bottle Kiln, Derbyshire. 2008

Giuliana Lazzerini is a well-established painter who currently lives in a lovely part of Yorkshire and was brought up in a lovely part of Tuscany.
Wordsworth's words, that for him poetry was inspired by "emotion recollected in tranquillity" is equally apt for the work of Giuliana Lazzerini.                                                                                                          Her 'visual poems not only have exuberant colour, surface subtlety, but embody the warm feelings of joy, fun, enchantment and affection.                                                                                                          She continues on her creative path, always bringing new an unexpected elements into her art.